To read about the prominent features of St Giles', click here.
St Giles' History
1124 – St Giles' founded by King David I
Dauíd mac Maíl Choluim (King David I) founded St Giles' in 1124, during which time the bond between Rome and the Scottish church was becoming closer. St Giles' was built on the very eastern edge of Edinburgh and pre-dates most of the Old Town. When David I later founded the Abbey of Holyrood he gave the abbot permission to build houses up the ridge towards St Giles', establishing the Canongate burgh and forming what is now known as the Royal Mile. To read more about the origins of St Giles', click here.
1322 – St Giles' raided
In 1320 the Scots signed the Declaration of Arbroath, a letter to the Pope affirming Scotland's independence from England. Two years later the English King, Edward II, sent an army north with the intention of causing widespread damage. St Giles', at the time a small Romanesque church, was heavily fire damaged with much of Edinburgh.
1385 – St Giles' raided again by English army
In 1384 a meeting of the Auld Alliance between Scotland and France met in secret in St Giles', plotting a raid into England. The following year the English King, Richard II, sent a large army north to destroy St Giles' and other Scottish churches. Much of the building survived but black marks from the flames could still be seen on pillars until the 19th century. By 1390 St Giles' was restored with help from Edinburgh merchants.
1466 – St Giles' becomes Collegiate church
Edinburgh town authorities petitioned for St Giles' to become a collegiate church, a prestigious status which could only be bestowed by the Pope. Petitions in 1419 and 1423 failed but in 1466 Pope Paul II finally granted collegiate status to St Giles'. To read more about St Giles' expanding, click here.
1508 – Gavin Douglas appointed Provost of St Giles'
The early Scots makar and translator Gavin Douglas became provost of St Giles' in 1508. His translation of Virgil's Aeneid into Scots was the first translation of a major classical poem into any modern Germanic language. He completed the Aeneid in 1513, just days before the disastrous Battle of Flodden. All of his literary work was composed during his time at St Giles' and he is still regarded as a pivotal figure in the development of early Scottish literature.
1558 – St Giles' Day Riot
In 1558 Protestantism was beginning to take hold in Scotland. One night a statue of St Giles was stolen from the church, which was still Catholic in practice, and thrown into Edinburgh's Nor' Loch, a putrid body of water which once filled Princes Street Gardens. The traditional St Giles' Day parade was also interrupted by Protestants trying to break images of saints.
1559 – John Knox becomes minister of St Giles'
John Knox was a Scottish priest who converted to Protestantism in the 1540s and fled into hiding and exile. In Geneva he befriended the French reformer John Calvin. On his return to Scotland he marched an army of followers into St Giles' and preached there for the first time. The following week he was elected its minister and the building was stripped of its Catholic decoration.
1560 – Presbyterianism established in Scotland
The Scottish Parliament abolished papal authority in 1560 and decreed that Scotland was now a Protestant country. This was despite Scotland still having a Catholic queen, Mary Queen of Scots. St Giles' 400 years as a Catholic church officially came to an end. Inside the building the stained-glass windows were removed and old church silver was melted down and sold to raise funds for redecoration. To read a more detailed account of the Reformation, click here.
1637 – King Charles I attempts to impose Anglican worship
Scotland and England began to share the same monarch following the 1603 Union of the Crowns, though the two countries still had separate legislatures. In 1637 King Charles I attempted to draw the Scottish church, which was Presbyterian, into line with the English church, which was Anglican. Scottish opposition came to the boil when Charles I attempted to impose a new prayer book in St Giles' and made St Giles' a cathedral. A local woman named Jenny Geddes picked up her stool and threw it at the preacher, starting a riot. Church services were suspended for a week for fear of public uprising.
1638 – National Covenant signed at Greyfriars Kirk
Charles I's leading opponents in Scotland met at Greyfriars Kirk in Edinburgh, not far from St Giles', to sign the National Covenant. The Covenanters called for religious freedoms and for the independence of the Scottish church to be maintained. During the subsequent Wars of the Three Kingdoms, a captured royalist named Sir John Gordon of Haddo was imprisoned in a room above the North Porch of St Giles', which came to be known as Haddo's Hole. An original copy of the Covenant is still on display in St Giles'.
1700 – Bells installed in Crown Spire
In 1700 musical bells were installed in the church spire. According to tradition, when the 1707 Act of Union between Scotland and England was enacted several years later, the bells of St Giles' chimed to the tune Why should I be so sad on my wedding day?, capturing the mood of the population. Memories of the Covenanters still ran deep, and the guarantee of the Church of Scotland's autonomy was one of the primary conditions of Union.
1745 – Arrival of Bonnie Prince Charlie announced at St Giles'
The Jacobite cause gathered momentum across Scotland, especially in the Highlands, and in 1745 Bonnie Prince Charlie's arrival into Edinburgh was announced at St Giles'.  The Magistrates of Edinburgh assembled in the church to receive the message commanding them to surrender the city. Bonnie Prince Charlie's supporters lined the Royal Mile to see him on his way to set up a Jacobite Court at Holyrood Palace.
1872 – William Chambers restores St Giles'
By 1872 St Giles' was in a state of disrepair. It had been split into various different churches and rooms since the reformation, and had been the subject of a previous restoration led by William Burn earlier in the nineteenth century. The Lord Provost of Edinburgh William Chambers envisioned a revitalised and refurbished church which would play host to prestigious national ceremonies. In 1872 his plans were approved. Centuries-old fire damage from the English raid of 1385 was scrubbed from the pillars, the walls were plastered and the floors were relaid with decorative tiles. For more on the restorations in the nineteenth century, click here.
1911 – Thistle Chapel constructed
In 1911 the Thistle Chapel became home to the Knights of the Thistle, an order of chivalry associated with Scotland which dates back to 1687. The chapel was designed in the neo-gothic arts and crafts style by the architect Robert Lorimer, and is renowned for its intricate wood carvings of angles, animals and flowers. The Order consists of sixteen members, a new member only being invested when another has died. The patron saint of the Order is St Andrew, and members meet annually around St Andrew's Day.
1985 – Robert Burns memorial window installed
There was a long-held complaint that Edinburgh lacked a significant memorial to Robert Burns. In 1985 St Giles' agreed to installing a stained-glass window to Burns above the entrance way, and selected Icelandic artist Leifur Breidfjörd to complete the design. The window celebrates major themes of Burns' work in a semi-abstract style; nature, humanity and love. The topmost tracery contains a depiction of the sun, blossoming "like a red, red rose".
While the Cathedral is closed, we are losing a very substantial part of our regular income, and it may take a very long time for things to recover after we are able to re-open. All donations, large or small, are therefore very welcome, to help us to survive, and to continue to fulfil our role in the spiritual and cultural life of the city and the country.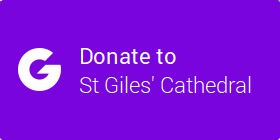 With special thanks to Peter Backhouse for the photography used throughout this website.